The Australian Archaeomagnetism Laboratory (TAAL) is purpose built palaeomagnetic,  mineral magnetic and archaeological geophysics laboratory designed specifically for work on archaeological and fossil bearing sites. It is based in the Department of Archaeology, Environment & Community Planning at La Trobe University in Melbourne, Australia.
AFRICAN ORIGINS: The laboratory is part of a Melbourne based research network in African Palaeoanthropology and Evolution (APE@MELBS) that links La Trobe Archaeology's research strength in African Archaeology with researchers at Monash and the University of Melbourne. This network has a particular focus on the South African hominin, archaeological and fossil record and is in partnership with the Centre for Anthropological Research at the University of Johannesburg; with whom the laboratory runs a Geoarchaeology and Palaeoanthropology Fieldschool at the Drimolen Hominin site.
TRANSFORMING HUMAN SOCIETIES: The lab is part of La Trobe University's research focus  on the past record of human origins, migrations and interactions with changing climate and environment. The laboratory's main focus is on the origins and spread of humans and their technology (e.g heat treatment) throughout the globe by dating archaeological and fossil sites to understand early human biogeography.
SOUTHERN HEMISPHERE ARCHAEOMAGNETISM: The laboratory also has close links with the University of Liverpool Geomagnetism Laboratory in the UK working on southern hemisphere geomagnetic field variation through time.
PHYSICS RESEARCH: The lab has close links with the Dept. Physics at LTU. The Laboratory staff and students also undertake research at ANSTO through the AINSE funding program and at the Australian Synchrotron.
PROJECTS: The lab is currently working on projects in South Africa, Malawi, Kenya, Ethiopia, Israel, Armenia, Bulgaria, China and Australia. For recent information on the labs involvement in the discovery of Australopithecus sediba in Africa, the Red Deer Cave People in China or early evidence for modern human behaviour at Pinnacle Point, S. Africa see the lab publication page and/or media page.

Australopithecus sediba from Malapa (1.98 Ma), the Longlin Skull (Red Deer Cave people) from China (11.5 ka) and experimentally heat treated silcerete from Pinnacle Point, S. Africa
——————————————————————————————-
STAFF: 
Dr Andy I.R. Herries: TAAL Director, Associate Professor & Australian Research Council (ARC) Future Fellow
I am the head of the Australian Archaeomagnetism Laboratory (TAAL). I am also an Associate Professor and ARC Future Fellow in the Geochronology of Human and Marsupial Evolution. For information on my current ARC Future Fellowship Project (A new chronological framework to access regional variability in mid-Pleistocene archaeological, palaeoecological and palaeoclimatic data from Africa) and information on how to get involved see 'ARC Future Fellowship' page or the '4-student' page.
I have worked in South Africa for 17 years and have a wide ranging background in the excavation of Palaeolithic and fossil bearing caves, Palaeoanthropology, Geoarchaeology, Speleology, Geochronology, Karst Geology, Archaeological Geophysics, & Archaeomagentism (inc. Palaeomagnetism, Mineral [Rock] Magnetism & Environmental Magnetism). My work has focused on dating South Africa's hominin sites through the palaeomagnetic analysis of cave sediments and speleothem. I have additionally worked on sites and deposits in the UK, Kenya, Bulgaria, China, Ethiopia, the Galapagos and Australia.
GOOGLE SCHOLAR CITATION PROFILE
Agathe Lisé-Pronovost: Transforming Human Societies Fellow
Agathe undertook her PhD at Université du Québec à Rimouski (Canada) in Marine Palaeomagnetism. For her fellowship she will be working on the palaeomagnetic analysis of Pleistocene Australian Lake Sediments (with Dr Kale Sniderman, University of Melbourne) and the recovery of archaeomagnetic data from combustion features at Lake Mungo with Dr Herries and Nicola Stern (LTU Archaeology).
…………………………………………………………………………………………………………………………………………….
STUDENTS: For current student projects and opportunities see 4-Students page.

Rhiannon Stammers: (Honours-PhD; 2013-2016)
Rhiannon got a first class honours with TAAL for her project on the heat treatment of silcrete from the Willandra Lakes World Heritage Area in New South Wales, Australia; working with Dr Herries and Nicola Stern (LTU Archaeology). She has been accepted into a PhD for 2014 at TAAL and will be working on the Drimolen hominin bearing site in South Africa with Dr Herries, Dr Stern (LTU Archaeology), Dr Justin Adams (Monash University) and Dr Colin Menter (University of Johannesburg).
 left: Rhiannon with Au. sediba (2013)
Angeline Leece (Masters-PhD)
Angie completed her undergraduate and honours with Dr David Strait (University of Albany: SUNY) and is now undertaking a masters by research leading to a PhD. She will be researching aspects of the Drimolen hominin fossils with Dr Herries,  Dr Colin Menter (University of Johannesburg) & Dr Jacopo Moggi Cecchi (Università degli Studi di Firenze).
Tom Mallett (Honours)
Tom is starting honours in 2014 and will be researching the formation history and age of a hominin cave site in South Africa using palaeomagnetism and micromorphology.
James Donlon (Honours):
James will be undertaking an honours project on mineral magnetism, geochronology and subsistence change at a multi-occupation shell midden near Apollo Bay (Victoria, Australia) with Dr Herries, Dr Gillian Garvey (LTU Archaeology) and Dr Ilya Berelov (BIOSIS).
————————————————————————————
The Australian Geoarchaeological and Palaeoanthropological Field School at Drimolen (South Africa): June 27 – July 17th 2014
Drimolen palaeocave is the third richest richest hominin bearing deposit in South Africa and has yielded fossils of Paranthropus robustus, early Homo and a wealth of other species, including a vast collection of non-human primates. The site has also yielded evidence for early bone tool use.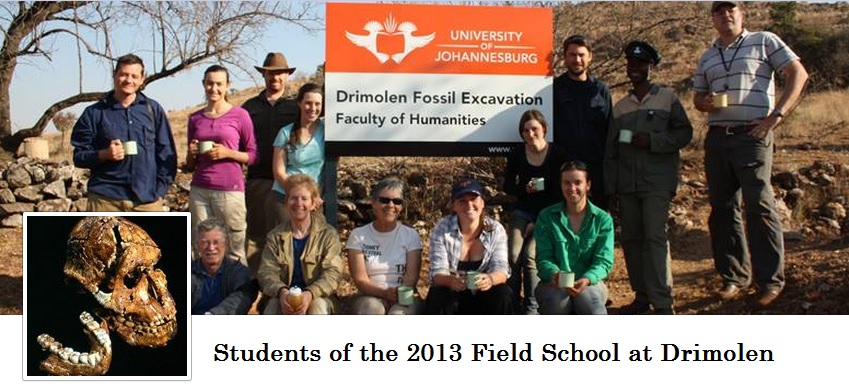 Excavations will be taking place at Drimolen in collaboration between La Trobe University Department of Archaeology, Environment and Community Planning and the Centre for Anthropological Research at the University of Joahnnesburg. Excavations will be directed by Assoc. Professor Andy Herries and Dr Colin Menter and will take place June 27- July 17th 2014. For information about attending the field school please e-mail: ozarchaeomag@gmail.com
——————————————————————————————-
TAAL & MHON Research Interests 
1) Archaeomagnetism, Palaeomagnetism and Environmental Magnetism of archaeological and fossil localities
2) Modern Human Origins (focusing on Africa, S.E. Asia and Eastern Europe)
3) Palaeoanthropology and hominin evolution
4) Geochronology of Palaeolithic and hominin sites and the cross correlation of various  geochronological techniques (last 7 Million years)
5) Cave Archaeology, excavation and stratigraphy and climatic reconstruction from speleothems
6) The use of fire in the archaeological record and the heat treatment of stone tools.
7) Excavation of logistically challenging sites
CURRENT EVENTS:  FACEBOOK
CONTACT:
E-mail:  OzArchaeomag@gmail.com