The LTU Human Evolution and Karst Landscapes Lab (HEkLL) was opened in 2015 and contains facilities for undertaking fossil preparation, including acid preparation and conservation as well as 3D scanning and printing and sedimentological research (petrography/micromoprhology). The lab has a range of Zeiss and Dino-lite microscopes for looking at fossils as well as conducting micromorphological analysis. The lab also has a range of higher powered computing facilities for analysing micro-CT, GIS, Synchrotron and Neutron Tomography Data. This is augmented by the adjacent Visualisation Laboratory (VisLab2). The lab has a range of fossil casts, including a number from South Africa that are unique to facilities in Australia.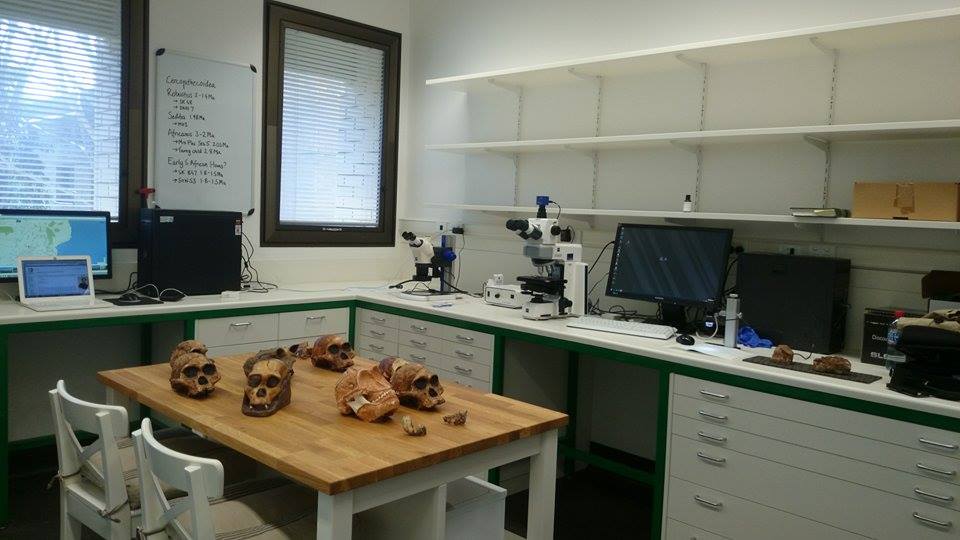 HEkLL Students & Projects:
Angeline Leece (PhD 2016-19): Angi completed her masters with the lab in 2016 looking at Paranthropus fossils from the Drimolen hominin site in South Africa. She published her first paper on the first hominin tooth from the Haasgat site in 2016. She is now continuing her research on Paranthropus in South Africa for her PhD. Originally from the US, Angi completed her undergraduate studies with Prof David Strait (now at Wash. U & St. Louis) at SUNY. She attended the 2013 LTU Drimolen field school before moving to Australia to study. Below Angi can be seen working on Drimolen fossils in South Africa with Prof Jacopo Moggi-Cecchi (U. Florence, Italy). Angi's research has been funded by the Australian Research Council grant FT120100399 and La Trobe University DVCR and Faculty grants.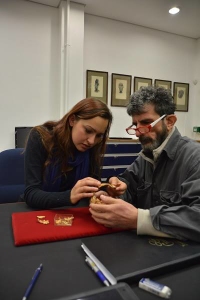 Jesse Martin (Honours 2016-17): Below Jesse can be seen at Drimolen during the 2016 season comparing a new hominin fossil find to the DNH7 Paranthropus robustus skull.  Jesse was a student on the 2015 Drimolen field school and TA on the 2016 school. He is currently undertaking his honours research in HEkLL on reconstructing a new early Homo skull from Drimolen. Jesse's research has been funded by the Society of Antiquaries of London as well as the Australian Research Council grant FT120100399 and La Trobe University's DVCR.