– 5 questions with the labs new post doc, Agathe in La Trobe Uni News.
– New York student doing Master's in archaeology
– An article in American surveyor about our use of a total station for humans origin research with some pictures of a number of sites we have worked at over the last few years. OUT OF AFRICA.
VIDEO – Humans, Extinction and Magnetic Field Reversals
VIDEO – Big Fat Ideas Talk; the Last Human Species and Population
VIDEO- Dating Human Origins in South Africa for MOCC with John Hawks
La Trobe Media – Fossil Discovery in Asia 
New Scientist with comments by Chris Stringer
The Guardian with comments by Stringer and Lahr
BBC News with comments by De Groote
ABC with comments by Colin Groves
Science News – 'Little Foot' Fossil Could Be Human Ancestor
La Trobe University Research: Dating our earliest ancestors
New ages for Australopithecus sediba  – THE AGE
La Trobe University Bulletin – Dating our earliest ancestors
Dating Our Earliest Ancestors – iTunes Podcast
2011 Nature Research Roundup – Sterkfontein Caves get younger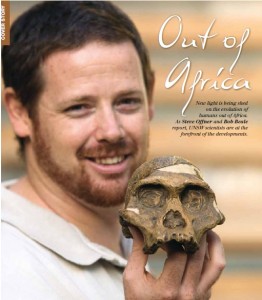 ABC – Fossil finds may rewrite human history
ABC – new species of human found in deathtrap
The Science Show on ABC interview
UNSW media article on earliest evidence for humans eating aquatic resources
UNSW media article on early Homo in South Africa
UNSW media article on earliest evidence for fire engineering to make stone tools
UNSW Media article on earliest evidence for costal adaptation in modern humans